The Measurelab Year of Self Betterment
As Measurelab, we have been running bi-monthly Google Analytics and Google Tag Manager training sessions up in London for nearly 18 months now. We like to keep the groups small enough (under 10) to be personable and really help each attendee out with their questions and unique requirements. Due to the success of these training events, we are now running them every month (see all the dates for GA Training & GTM Training)!
But why do we need GA and/or GTM training, I have it all set up fine… I think?
I hear you ask in the back of your head.
Well, do you want this situation:
Or this one: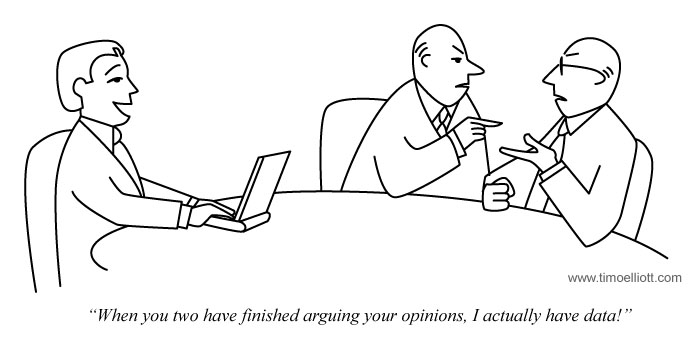 It all comes down to data trust and quality. Not being confident on how the data is being collected, where the data comes from, or what it is used for will mean that you cannot leverage it to it's full potential. Even making the most basic of optimisations off the back of untrustworthy/unknown data could lead to wasted spend and bad marketing ROIs!
My setup is fine, I sorted this out years ago!
I also hear you ask.
Well this is actually way more common than you may think. Web analytics as a whole is a continually evolving process. From new and improved tracking methods and technology, to better and more advanced reporting and analysis requirements. For example, look at how much Google Analytics has changed even over the last few years:
And looking at the adoption of these features:
(See here for a great review on the last 10 years of GA.)
Where do you fit into this? Do you make the most of the Data Import feature, or have you not even upgraded to Universal Analytics yet?
What a day's training could do for you is to introduce you to these features (new and existing), whether it is just food for thought or something that you can take away and use in your day to day working lives. We have courses for all types of users, from beginners courses to advanced courses. If there are 4 or more of you wanting to attend, it may even be more beneficial (financial and educational) to book us to come to your office for the day to run a custom tailored training session.
If you have any questions on any of the training courses we offer, or even just want to say hi then please get in touch! 🙂
Written by
Daniel is the innovation and training lead at Measurelab - he is an analytics trainer, co-host of The Measure Pod analytics podcast, and overall fanatic. He loves getting stuck into all things GA4, and most recently with exploring app analytics via Firebase by building his own Android apps.
Subscribe to our newsletter: